Here at ICAM we are following recommended protocols put in place by the CDC.
Key Goals for the U.S. healthcare system in response to the COVID-19 outbreak are to:
Reduce morbidity and mortality
Minimize disease transmission
Protect healthcare personnel
Preserve healthcare system functioning
Steps we are taking to reduce risks are as follows:
Limiting visitors to our facility. At this time only the patient can enter. Please don't bring any children, friends or family with you to your appointment.
Rescheduling non-urgent visits.
Patients that have any respiratory symptoms are asked to stay home.
We are screening patients for symptoms before entering our facility. Patients are asked to call us from their car when they arrive. One of our Medical Assistants will come and check their temperature and check for any symptoms.
If you have recently been traveling you may be asked to wear a mask.
We do apologize for any inconvenience this may cause.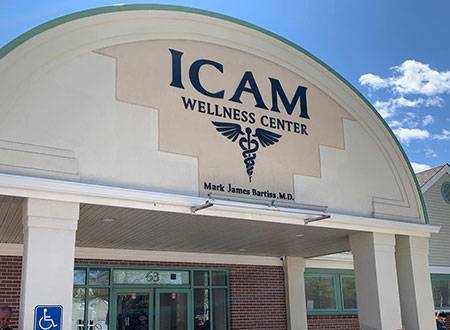 HERE AT ICAM, WE TRY TO MAKE YOUR VISIT AS COMFORTABLE AS POSSIBLE.
Our decor is bright and our atmosphere is warm and caring. Positive energy flows through every room. Our office is clean and spacious, and our staff is ready to assist you in all of your medical needs. Our drip room is furnished with the softest recliner chairs for your comfort. Dr. Bartiss and the ICAM staff are here to see to it that you are comfortable and your needs are met.
Contact Us To Schedule An Appointment
I want to thank you for your medical advice and consultation since I began ozone treatments with you for my non-Hodgkin's' (marginal zone) lymphoma cancer. Your MAH ozone has worked very well for me and I would like to share two areas of improvement. One concerns my bone marrow cellularity. Before I started seeing you, my bone marrow cellularity (as measured by an Oncologist prior to seeing you) was at 90% – very, very high! However, after 23 weekly MAH ozone sessions you sent me Read More
Jerry
I was diagnosed with stage III colorectal cancer December 2011. Out of fear I did six weeks of chemo and radiation. I was told that the 1-2 punch of chemo and radiation would dissolve the tumor. When that didn't happen, I had time to think for myself. When the chemo and radiation didn't work they wanted me to have a life changing permanent colostomy operation. From that point on I listened to my inner voice and doing that led me to alternative methods. I gave all the fear, doubt and confusion to God. Read More
Paula
My name is Christine and my daughter is 8. To tell you a little about my daughter FIRST she was born premature and given antibiotics which were not necessary at her birth it was all for precaution. Since 3 mos. She had what they call nurse maids elbow except not only were her elbows popping out of socket and the slightest pull, but also her knees or knee caps. Horrible to see her in pain and having to pop them back in. She has had major muscle aches and pains to the point she could not walk some days Read More
Christine